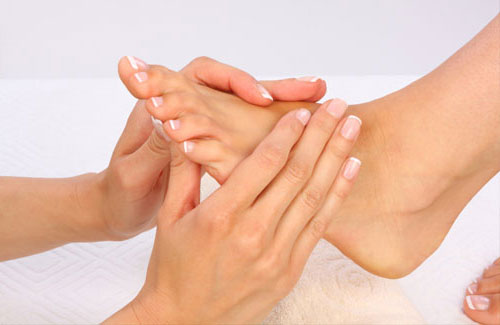 Meet the team
Rachael Garrick (Podiatrist)
As well as being the owner of The Dorking Footcare Centre, Rachael is a fully qualified podiatrist registered with the Health Professions Council and the Society of Chiropodists and Podiatrists.
Since graduating from the University of Brighton in 1995 with her degree in Podiatry Rachael has worked hard to gain experience in all areas of podiatry. Before working full time at the Dorking Footcare Centre she was a specialist in diabetes and education in the NHS. In addition, Rachael was a lecturer in clinical podiatry for ten years, having been invited to teach at University of Brighton in 2005. Her role at the university was to teach the practical skills needed to be a podiatrist and as an examiner.
Rubina Abbas (Reflexologist)
Rubina is a Qualified International federation of Reflexologist therapist offering a full range of treatments. I hold Diplomas in Reflexology as well as Anatomy and physiology from the European School of Healing.
Louise Cullingham (Podiatrist)
We are pleased to have been joined recently by Louise. Louise worked in the NHS as a specialist in the field of bio-mechanics and orthotic provision. She has also got many years of experience of general podiatry.
Reception Staff
We have a team of receptionists who are here to help with appointment bookings and also answer or direct your questions and calls.
Daphne Tuesdays and Thursdays.
Tricia Wednesdays and Fridays.
Elicia Saturdays.
Our practitioners are in clinic at the following times
Our practitioners are in clinic at the following times
Monday
Podiatry David Gruhl - 10am to 7pm
Tuesday
Podiatry Rachael Garrick - 10am to 7pm
Podiatry David Gruhl  - 10am to 7pm
Wednesday
Podiatry David Gruhl - 8am to 5pm
Podiatry Louise Cullingham - 8am to 5pm
Thursday
Podiatry Rachael Garrick - 8am to 5pm
Podiatry David Gruhl  - 8am to 5pm
Friday
Podiatry Rachael Garrick - 8am to 5pm
Podiatry Louise Cullingham - 8am to 5pm
Saturday
Podiatry Rachael Garrick - 8am to 4pm
Podiatry David Gruhl - 8am to 4pm
Sunday
Closed